Description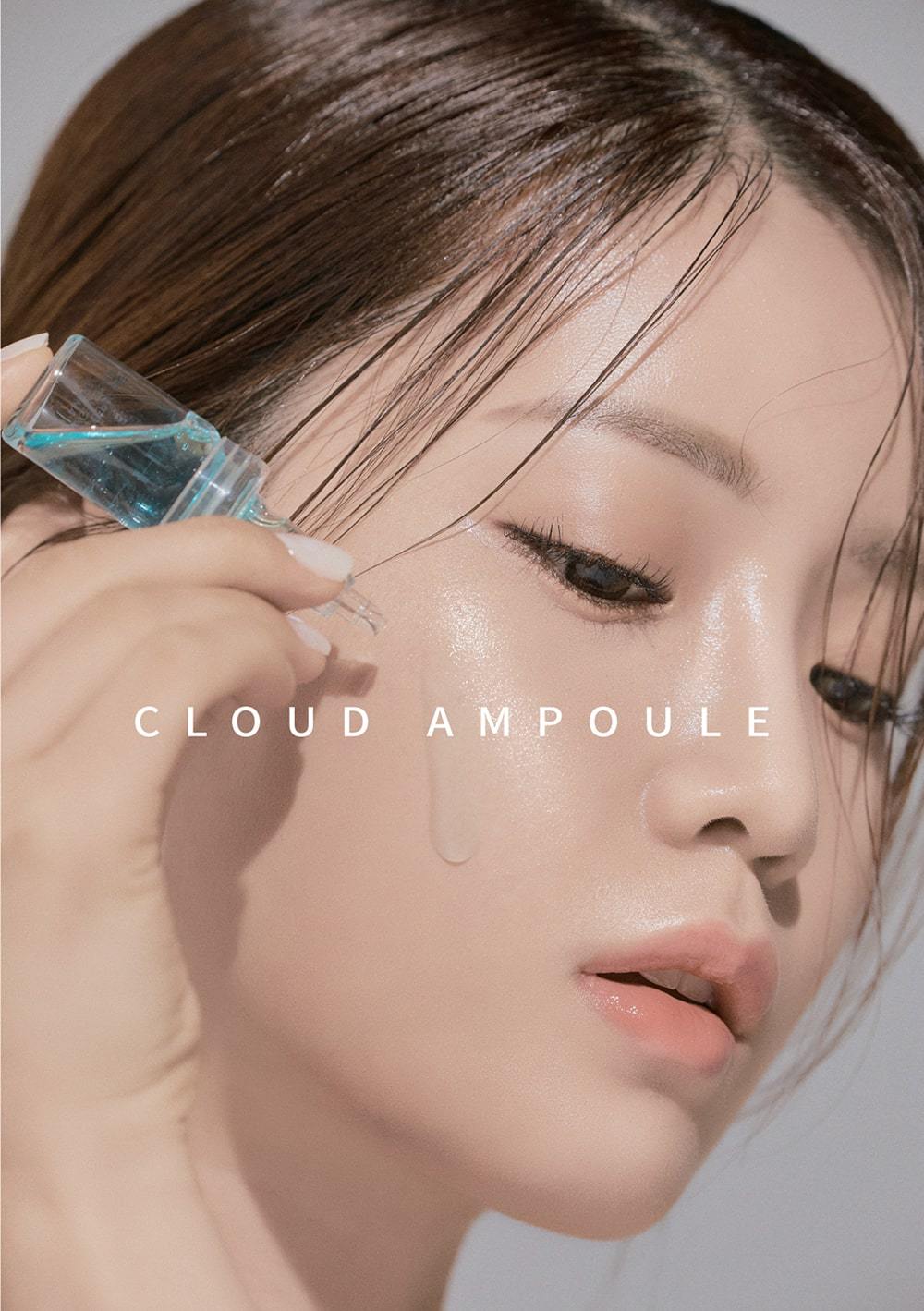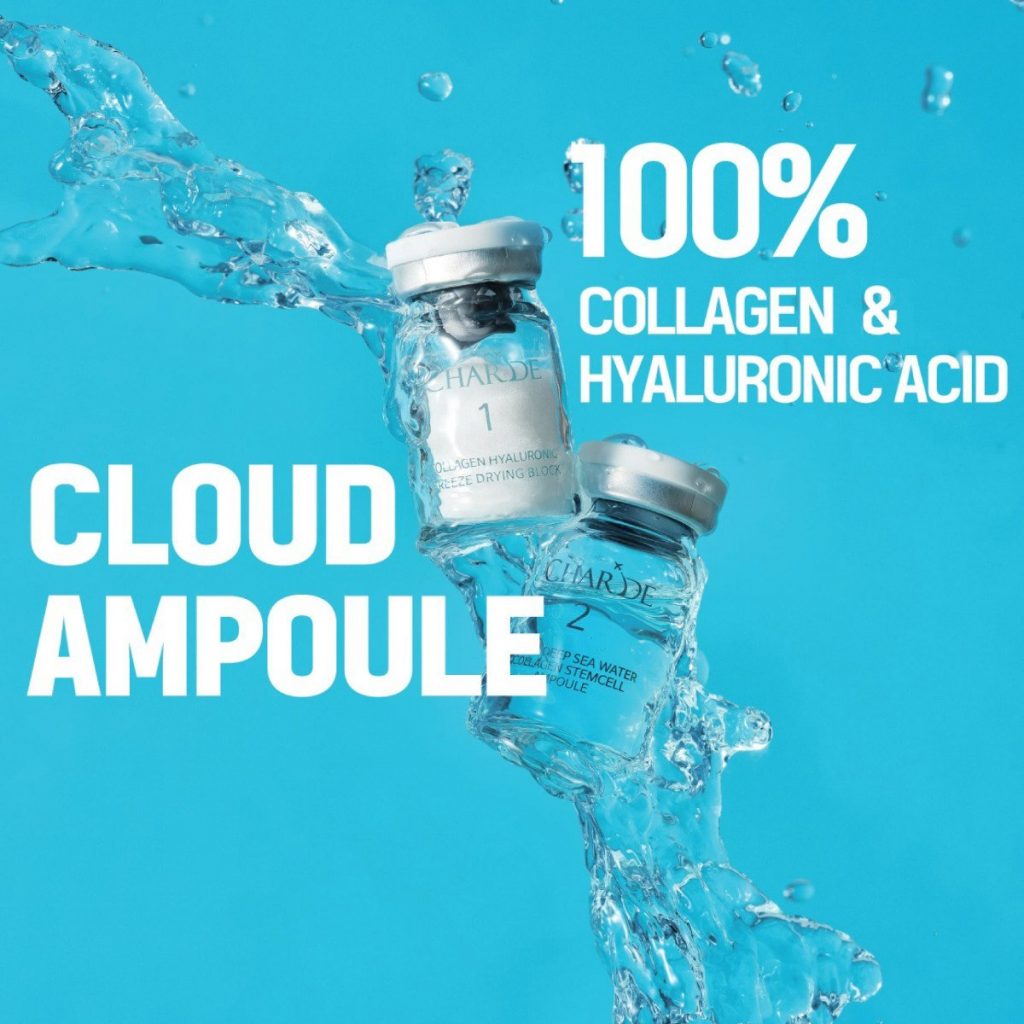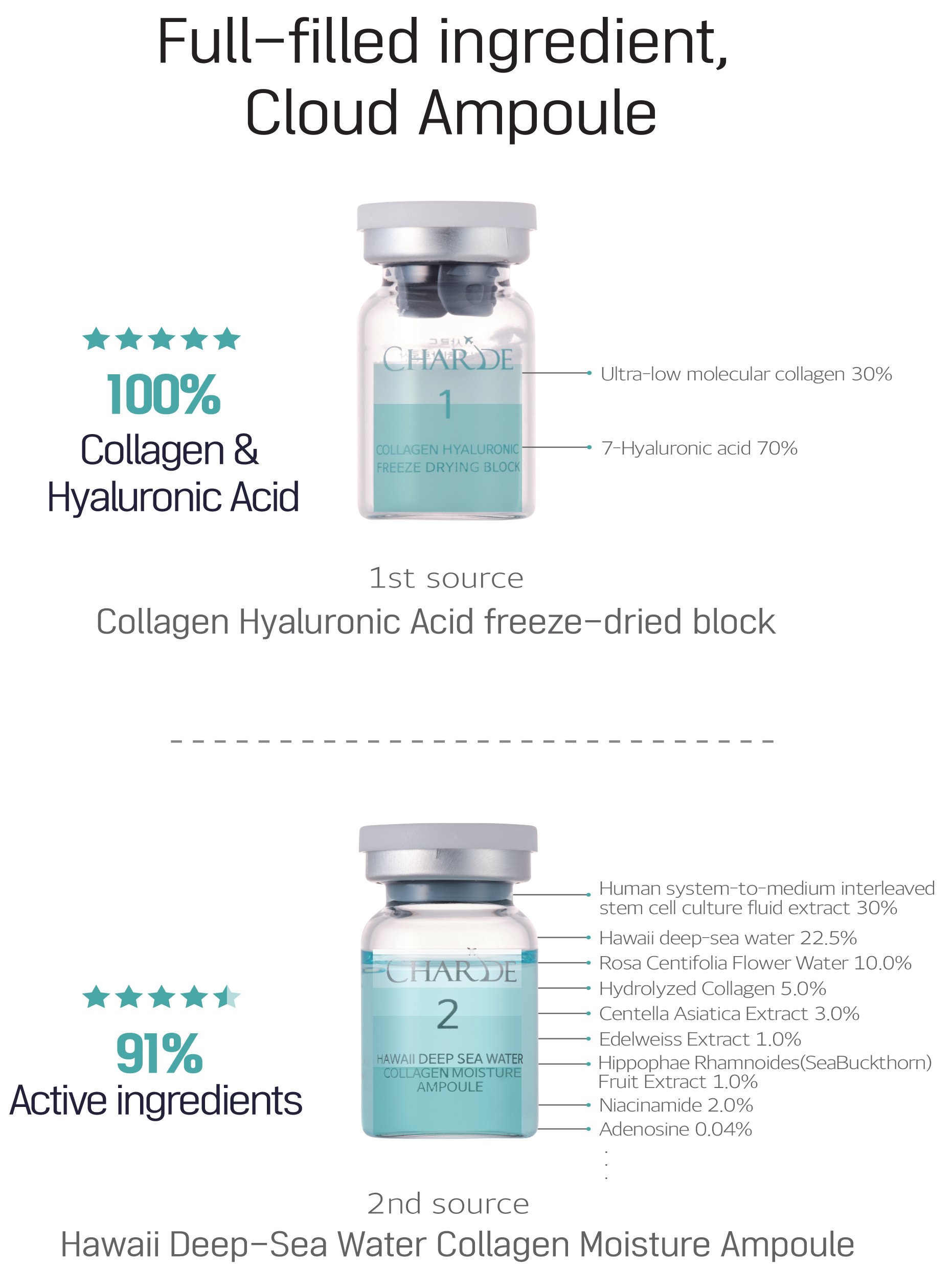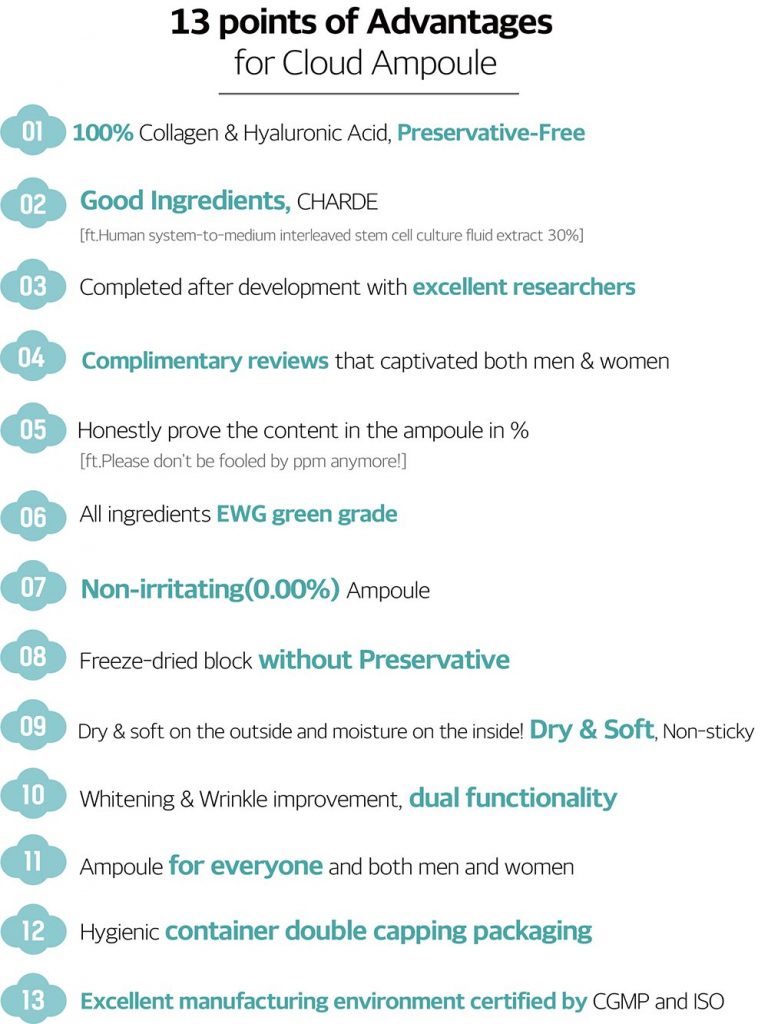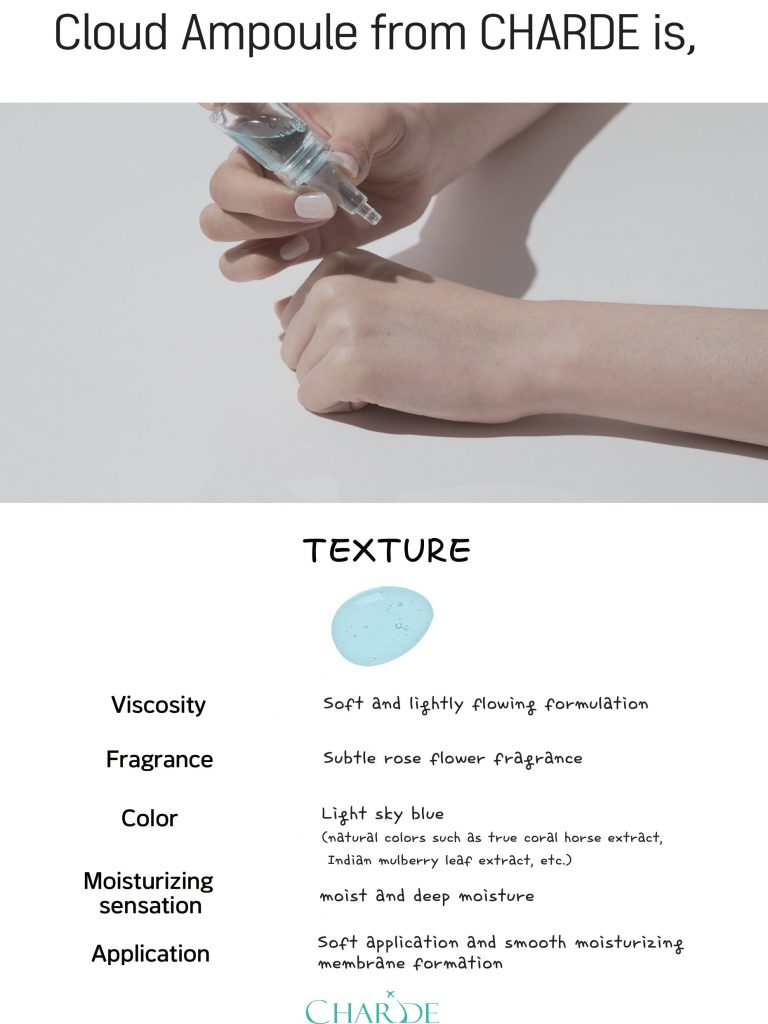 Frequency and Directions of Use:
Cloud Ampoule from CHARDE is crafted with the richest formula of 100% EWG green grade ingredients penetrates like a cloud for basic nomads so that we can stay moist without worry. Also it so easy to use! All you got to do is mix, shake and squeeze!
1. Open the cap of the 1st Agent (Freeze-Dried Block) by flipping it and remove the cap.
2. Then open the 2nd Agent (Active Ingredient Collagen) the same way and
3. Pour in the 2nd Agent into the 1st Agent by placing the mouth together.
4. Seal the mixture with a rubber stopper and shake well until it completely dissolves.
5. Secure the rubber stopper to the cone cap and squeeze out adequate amounts onto your skin and gently massage it in.
---
تردد الإستخدام و طريقة الإستعمال:
تم تصنيع أمبولة كلاود من شارد بأغنى تركيبة من مكونات من الدرجة الخضراء المعترف بيها من مجموعة العمل البيئية EWG فقط.
تخترق مثل السحابة تتمكن من البقاء رطبًا دون قلق. كما أنه سهل الاستخدام! كل ما عليك فعله هو الخلط والرج والضغط!
1. افتح غطاء الأمبولة الأولى (البلوك المجفف بالتجميد) عن طريق قلبه وإزالة الغطاء.
2. ثم افتح الأمبولة الثانية (Active Ingredient Collagen) بنفس الطريقة و
3. صب الأمبولة الثانية في الأمبولة الأولى بوضع فتحة الفم معًا.
4. احكمي إغلاق الخليط بسدادة مطاطية ورجيه جيدًا حتى يذوب تمامًا.
5. ثبت السدادة المطاطية في الغطاء المخروطي واضغط على الجلد بكميات كافية وقم بتدليكه برفق.
List of Ingredients:1.Collagen Hyaluronic Freeze Drying Block:
Hydrolyzed Collagen (30%/), Sodium Hyaluronate, Hydrolyzed Glycosamino Glycan, Sodium Hyaluronate Crosspolymer, Hydrolyzed Hyaluronic Acid, Hydroxypropyltrimonium hyaluronate, hyaluronic acid, sodium acetyl, Hyaluronic acid in inside hyaluronate-7 (70%) 2.Hawaii Deep Sea Water Collagen Moisture Ampoule:
Seawater (22.5%), Butylene Glycol, Provence Rose Water (10.0% 0), Dipropylene Glycol, Hydrolyzed collagen extract (5.09%), Centella extract (3.0%), niacinamide, Glycerin, vitamin tree fruit extract, edelweiss extract, Indian mulberry tree leaf extract, Hyaluronic Acid, Indian Mulberry Flower Extract, Hydrolyzed Sodium Hyaluronate, Ivy God Fruit Extract Hydrolyzed Hyaluronic Acid, Eggplant Fruit Extract, Holy Basil Leaf Extract, Turmeric Root Extract, Hydrolyzed Maca Root, Methyl Glucose-20 Hydroxyethylcellulose, carbomertro methamine, mugwort extract, adenosine, Olive extract, propanediol, maltodextrin, sodium hyaluronate cross polymer, Sodium hyaluronate, purified water, true coral horse extract.
---
قائمة المكونات: 1. كولاجين هيالورونيك بلوك التجفيف بالتجميد:
كولاجين متحلل (30٪ /) ، هيالورونات الصوديوم ، جليكوزامينو جلايكان متحلل ، بوليمر هيالورونات الصوديوم ، حمض الهيالورونيك المتحلل ، هيدروكسي بروبيل تريمونيوم هيالورونات ، حمض الهيالورونيك ، أسيتيل الصوديوم ، حمض الهيالورونيك في الداخل. أمبولات الرطوبة:
ماء البحر (22.5٪) ، بوتيلين جلايكول ، ماء ورد بروفانس (10.0٪ 0) ، ديبروبيلين جليكول ، مستخلص كولاجين متحلل (5.09٪) ، مستخلص سنتيلا (3.0٪) ، نياسيناميد ، جلسرين ، خلاصة شجرة فيتامين الفاكهة ، خلاصة إديلويس ، التوت الهندي مستخلص أوراق الشجر ، حمض الهيالورونيك ، مستخلص زهرة التوت الهندي ، هيالورونات الصوديوم المتحللة ، مستخلص فاكهة آيفي جود ، حمض الهيالورونيك المتحلل ، مستخلص فاكهة الباذنجان ، مستخلص أوراق الريحان المقدسة ، مستخلص جذر الكركم ، جذر الماكا المهدرج ، ميثيل الجلوكوز -20 هيدروكسي إيثيل سلولوز ، كاربون مستخلص موجوورت ، أدينوزين ، مستخلص الزيتون ، بروبانديول ، مالتوديكسترين ، بوليمر هيالورونات الصوديوم ، هيالورونات الصوديوم ، مياه مقطرة ، مستخلص حصان المرجان الحقيقي